"Food should not only taste good but it should also make you feel good."
- Rafik Bouzgarrou
Rafik grew up in Tunisia, on a large olive farm owned by his family, next to the Mediterranean Sea. "The fresh smell of the ocean was always there," Rafik told me. "I also remember the smell of salt, pepper and the smoke from the family grill on the beach… I was really attracted to all that, those smells, those flavors… My mother was always chasing me out of the kitchen, since it wasn't a place for boys. Fortunately, alot has changed since then."
Obviously it wasn't easy for Rafik to be able to become a chef, not only because of his mother but also because you could only see many of the ingredients for recipes in a book. "You would rarely see them nor eat them," Rafik said, "in those days you ate what was in season." In time, this search for the missing ingredients became the main influence on Rafik as a chef, his main passion: the exploration and discovery of known and unknown flavors.
This led him on a path to choose the best and freshest of these products as he tasted them and learned how to use them to create his always healthy and delicious food. "Food should not only taste good but it should also make you feel good," Rafik always says.
By the age of 25, Rafik decided to leave Tunisia in order to discover more flavors and to be able to keep studying more of the secrets in the recipes he had had to learn but had never seen, tasted or cooked. It was like a new world for Rafik when he arrived to New York. "I met this interesting guy, Al Bondini, and one day he just placed a whole lot of ingredients in front of me - Iron Chef style - and asked me to create appetizers of my own," Rafik remembers. "When he asked me if I spoke English, I told him: not yet, but I speak food."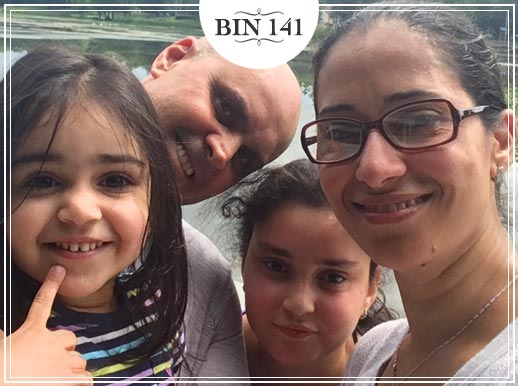 In 1997 Rafik moved to Connecticut and worked as sous-chef de cuisine in a French restaurant before moving back to New York where his passion for creating his own recipes was reignited when he saw a listing for The French Culinary Institute's first bread baking class, followed by over 100 hours of a pastry making course. HINT: That's the reason why the bread at BIN 141 is always fresh and extremely delicious.
After different experiences and some business opportunities, Rafik decided to open BIN 141 in the East Village.
And his passion, finally, became a reality.