"The perfect combination of healthy, organic, vegan, and delicious food
in an eclectic atmosphere in the East Village."
BIN 141 is the natural evolution of Angelina Cafe, a restaurant that Rafik opened in 2003 in the East Village. Now in 2019, while still keeping the same basic elements and gastronomic philosophy, BIN 141 is the organic transformation that Rafik's restaurant was heading toward: a cozy interior, a welcoming ambience and a much better location (now at the northwest corner of Avenue A and 3rd Street).
When Rafik decided to open Angelina Cafe, he probably wasn't expecting to launch a renewed version of his eatery over 15 years later. With the best of both worlds (spacious, windows all around, well located, outdoor seating), he was ready to open his new American restaurant and continue to create his own food under the new banner: BIN 141. NOTE: If you are curious about why the name "BIN 141," just go to the restaurant and ask Rafik himself.
Always creative, with the Mediterranean love for grilling and seafood, his training in French cooking and more than 20 years of experience in the USA permeating his food, Rafik decided to focus on always offering healthy and delicious food. And that's still his main goal: Rafik shops every day for the food he then makes and serves. His creativity and desire to make delicious foods that were more healthy led him, for instance, to coconut milk rather than heavy cream in his bisque soups. He continues to have heart healthy foods and many of which are vegetarian or vegan - and they taste great!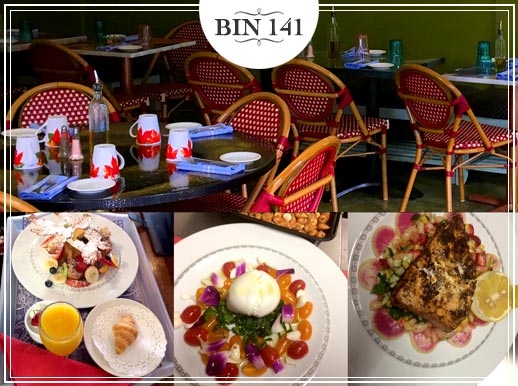 Bin 141 in a glimpse:
Healthy, organic, delicious and well priced food.
Brunch, lunch and fine dining.
Full bar, draft beer, organic wine and cocktails.
Happy Hour 5 to 8 PM.
Take Out and Catering Services available.
1,000 square feet.
Capacity for up to 60 people.
In the East Village (43 Avenue A, NY 10009).
(646) 822-3628
It has been over 15 years since Rafik opened Angelina Cafe for the first time, some prime elements are still the same, but some things have changed too. The new restaurant, BIN 141, is a welcoming and friendly venue, which makes it perfect for private as well as corporate events. BIN 141 also has a full bar, with organic cocktails, draft beer and one of the best organic wine selections in the area. And do not forget the impressive and delicious (and vegan) selection of cakes, pastries and gelato.
Perfect for brunch, lunch and fine dining, or just a late night wine and dessert, BIN 141 still is one of the few places in the East Village where eating is not only a pleasure but also, and always, a unique experience.